If your family wishes to experience fishing in some of the most pristine waters in the world where amazing activities abound, then New Zealand is calling you! At this luxury lodge, you will find that the rainbow and brown trout are strong and fight hard. Their home, made up of the fast-flowing, cold waters of the Southern Alps, has created an ideal habitat for them. Your family will love the thrill of reeling them in as you laugh and challenge one another.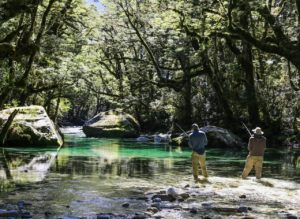 Throughout your stay, your seasoned guide will take you from prime fishing rivers throughout the Southern Alps to rivers in conservation lands such as national parks and world heritage sites. Most of these rivers are crystal clear, so you will have the thrill of spotting the fish you are after! It may seem easy, but the challenge comes when they see you too. This will test your abilities and may have you trying new techniques. Some of the popular techniques include dry fly, streamer, and nymph.
Included in every day of your fishing are a private helicopter charter, a guide, and a gourmet picnic lunch. As you take breaks throughout your day, you will be able to take in the breathtaking views around you. New Zealand is known for its mountains, valleys, and stunning greens. You will hardly find a bad view here!
When you are done for the day, enjoy winding down at the luxury lodge. Your meals here will be made up of delightful dishes of seafood, choice cuts, and delicious sides. Curl up with a coffee, hot chocolate, or drink of choice by the fire as you recount the day's tales. When it is bedtime, enjoy your private chalet with an ensuite bathroom, hot tub, viewing deck, and king bed.