Namibia Hunting Safari – Kalahari Desert
Feel like you are going home to visit your best friends in Africa!  Christine, Koos, James and their families cannot wait to see you and share the experience of a lifetime on their glorious land for your Namibia hunting safari!  The vastness of this Namibia safari area and the extraordinary skill of your veteran PH's (Professional Hunters) provides for the finest trophies while at the same time providing a safe experience.  Your hosts can proudly say that over their 20 years (since 1994) as a safari company, they have succeeded in harvesting trophies of outstanding quality to the great satisfaction of hunting clients. Numerous trophies qualified for gold medals and have closely defined the standard of what they hunt.  This veteran safari operation meets and exceeds our stringent criteria for an amazing hunting destination.
Why Namibia?  Simply put, it is one of the safest if not the safest country in Southern Africa.  The people are kind and the government is very favorable and supportive of the hunting community.
Only one group at a time is hosted on this property.  They do not mix groups.  Thus, over hunting is not a worry.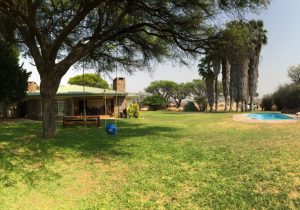 Embark on your Namibia safari hunting where there are more than 20 hunt able species. Located in the east of Namibia on the western edge of the Kalahari desert. This is the original hunting gathering area of the tribal Bushmen.  Your hunting area traverses 450,000 acres of bush-veld savanna with over 45,000 acres personally owned by your hosts!  Key to success is that they own their own property and have exclusive access to some of the finest hunting in Africa.  Family owned and operated.
What sets this outfitter a part from the rest?  Veteran dangerous game certified professional hunters with decades of experience.  Add to that some of the very finest bushman trackers in the industry…amazing to watch them at work.  Your professional hunter enjoys a reputation as one of the most amazing trackers in the world as well.  Add to this, you and your team spend the full day in the field hunting and enjoying lunch in the field.  Should you wish to hunt on horseback, they maintain a wonderfully well trained team of horses on property.  Spend an evening or more if you wish under the stars in their tented fly camp telling stories around the fire pit overlooking the productive watering hole.
Integrity.  These are the kind of people that you want to spend your safari with.  They are dedicated conservationist hunting in the proper style of spot and stalk and looking always for mature animals.
Unique opportunities that you may wish to add even more adventure to your safari include horseback safari and fly camp.  Make these the focal point of your safari or add them on as a fun adventure for a couple of days during your safari.  This is your Namibia hunting safari that will be customized for you.
To top all of this, this same outfitter has the exclusive rights to the finest Namibia safari concession in the Caprivi Strip with amazing trophy quality for Cape Buffalo, Elephant, Hippo, Crocodile, Sable, Kudu, Roan and more.  Whether this is your first safari or your tenth, you will be hunting with some of the finest people on some of the most outstanding hunting properties available today on the African continent.
As with all of our African properties, private aircraft are available for transfers if you prefer.