Alaska Fly Fishing Lodge
Step back in time to the original Alaska fly fishing lodge with float planes.  Yes in 1950, this was the first lodge to offer fly out fishing!  The original cabins from that era were just updated to reflect the amenities expected by today's anglers.  The main lodge still boasts the original mid century rustic architecture and oversized fireplace.
Besides the old time feel, what makes this Alaska fly fishing lodge so special?  The lodge is located in the Katmai National Park!  Not only will you fish the acclaimed Kulik River but the lodge is also easy access to the Bristol Bay river systems and lakes.  The fishing is spectacular and add to that bears, bears, and more bears.  Take a day off from fishing to visit Brooks Falls in the  Katmai National Park to see bears feeding in the river.  Or fish the spectacular Brooks River commonly known for its brown bear viewing opportunities at the legendary "Brooks Falls," during certain times of year the Brooks River is also known for exceptional fly fishing for rainbow trout, char, and grayling.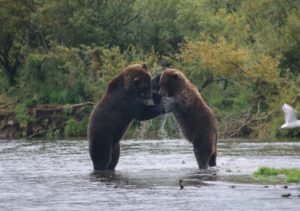 This lodge makes for a spectacular trip for those that really love fishing and want an authentic Alaska fly fishing experience.  That being said, spinning gear is also an option.  In fact, the lodge provides all your  fishing gear, boots and waders as part of the package.  Even travel to/from Anchorage and the lodge on float planes is included.  For those that are seasoned anglers, you will not be disappointed in the variety of rivers and species.  If you are a novice angler, do not despair as the guides are exceptional teachers and Alaska is truly one of the finest places on earth to learn how to fly fish.
Did we mention that the lodge is located on one of the finest Rainbow rivers in Alaska?  Leave the lodge by boat and 2 minutes later you are in rainbow mecca.
Float plane fly-outs are available daily as well.