Alaska Luxury Private Residence
This Alaska luxury private residence is accessible from Ketchikan in Southeast Alaska. Imagine, your own Alaska luxury private residence set in a pristine wilderness surrounded by some the finest sport fishing in Alaska.  Your typical boat ride to prime fishing areas is about 15 – 30 minutes making it easy to return to the lodge for lunch!
On a more personal note, the staff is eager to please.  Meals are exceptional prepared by your private chef.  They will do everything in their power to meet and exceed your expectations which is why they enjoy a very high return of guests year after year.
Exclusively sited near Southeast Alaska's famous Inside Passage, this residence was once home to a commercial seafood cannery. The cannery prospered because of its location, minutes from the best fishing spots in Southeast Alaska. Today, the artisan hand-crafted is one of only two lodges on the unpopulated island open to guests.  Both are owned and operated by the same lodge.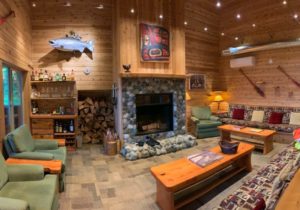 All-inclusive packages  feature guided saltwater Alaska saltwater sport fishing and professional seafood processing. Guests are treated to personalized cuisine with Alaska-inspired fine dining and a hosted open bar. The full service crew is available 24/7 for guests' every need.
This is a fantastic location for your next high end corporate or family vacation.  Every day is yours to plan as you please.  The lodge, guides and boats are there for your group exclusively giving you flexibility.
The residence accepts reservations for exclusive use groups only and will accommodate a total of 8 guests.   The private residence can be paired with the lodge around the cove for a maximum of 24 guests. The location's privacy makes it the perfect venue for both intimate gatherings of friends and family, and for "outside the box" corporate events.
We are unaware of another Alaska luxury private residence of this caliber in Alaska.