Alaska Wilderness Fishing – Sitka
Memories, memories, memories!  With this Alaska wilderness fishing adventure, you will wake up to whales passing in the bay, explore islands, sleep under the rain forest canopy in heated tents and shower in warm showers, all in the middle of the Alaskan wilderness. You'll be flown by float plane to an isolated camp at Kelp Bay, which is nested under a canopy of giant, ancient spruce and hemlock forest. Enjoy the personal attention of the licensed crew with two on one guides provided.  One of the most, if not the most, unique remote Alaska fishing experience.

This is arguably the finest personalized small remote Alaska wilderness fishing tent camp you will find!  The people are amazing and have been fishing these waters for many years.  They have a unique forestry permit that allows them to set up camp each year for a select few guests and then at the end of each season, the camp sight is restored exactly as it was at the beginning of the season.  This is one of our personal favorite experiences in the world.  Unplug, enjoy the sounds of the whales outside your tent as they pass by in the bay.  Each day, you will select your activities for the day with your private staff.  Meals are a treat as they are all prepared in a tent camp style setting but with the freshest of ingredients.  You will be treated to fresh seafood, prime rib, delicious vegetables and of course dutch oven breads and desserts.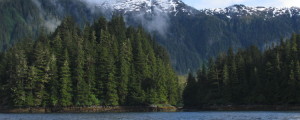 Each day opportunities abound, in every direction.

Experience both fresh and salt water fishing.

Fish the 5 species of Pacific Salmon – Wrestle a Monster Halibut.

Hike in plush green rain forests View the majestic whales and bears.

Flyfish one of our world class streams for trout and salmon.

Pull crab pots full of Dungeness Crab.

Observe Bald Eagles soaring above.

Beachcomb for treasures & dig for clams
At the wilderness camp in Kelp Bay you get to experience nature at its most pristine. Nestled in the old growth forest, sitting right on the fishery, going to sleep at night listening to the whales in the bay, a bonding experience not to be missed.  Any family that enjoys the outdoors will absolutely thrive on this experience.  The people are amazing!