New Zealand Luxury Hunting – Queenstown
What makes this New Zealand luxury hunting Queenstown property a win all the way around: it is one of the largest privately owned properties in New Zealand with monster Red Stag AND it has one of the most luxurious hunting lodges in the country. Throughout this property's draws and gullies you will find regal red stag ranging from 300-700 SCI points. The villa-esque lodge you will stay at during your hunting adventure is luxurious with comfortable, tailored décor and romantic outdoor seating with views of the pool and surrounding Southern Alps.
In addition to Red Stag, you will have the opportunity to hunt for fallow deer, elk, European chamois, Himalayan tahr, ram, goat, and boar. If you have an interest in other outdoor sports, wingshooting and fishing may be available depending on the time of your visit. Your guides are experienced in the backcountry of New Zealand. They will help you navigate the terrain, climate, and wildlife to give you the best chance of success.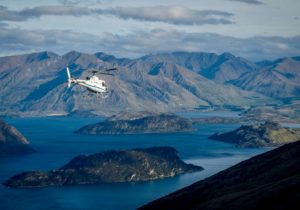 The lodge's location in Wanaka provides it with incredible touring opportunities. Some of these activities include spa time, jetboating, race car driving, bungee jumping, wineries, cheese tasting, hiking in the Alps, candle-lit evenings in hot pools, flying through Fiordland National Park, and hot air balloon rides. If there is not a package that suits all of your needs, we can easily create a custom touring plan for you!
The lodge is located close to the hunting property, so after a day of hunting you have a short ride back. This lodge boasts six king-sized bedrooms, beautiful balconies, a flagstone courtyard, a heated swimming pool, sunbathing area, a dedicated gun room, and beautiful décor throughout. Its rich, comfortable décor will elevate your senses and help you relax after a day of hunting or touring. You will eat gourmet meals created by one of New Zealand's finest chefs and brought to life with only the freshest ingredients from New Zealand.
Between hunting, luxury accommodations, and excellent touring, your family or group is sure to have the trip of a lifetime!