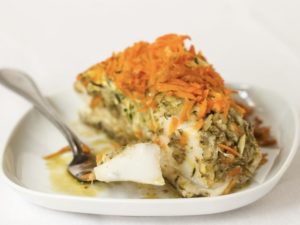 As the head chef of the Slaughter family (ok ok, I'll be fair and say I share this hat with my mom!), it is my job to find and execute recipes that allow us to turn our fresh caught Halibut, Salmon, Cod, and more from our trips into delicious meals! This recipe has done just that. It has quickly become our favorite Halibut recipe. Well, to be fair fried Halibut may still be our favorite, but sadly we threw out our fryer a few moves ago.
This recipe is easy to clean, full of flavor, and very fresh. For anyone who likes fish, this is sure to be a home run for the whole family or group! We use our fresh Halibut we caught while visiting our luxury fishing lodge outside of Ketchikan and our family adventure lodge outside of Ketchikan.
Other fish that would go well with this recipe are sea bass, tilapia, red snapper, or striped bass.
Here is what you need:
4 fresh Halibut fillets (the better quality the more tender and flavor-rich they will be)
½ cup of fresh Pesto (we make fresh Pesto, but store-bought works too)
¼ cup dry white wine (sauvignon blanc recommended, but we enjoy pino grigio with it as well)
¼ cup olive oil
Salt
Pepper
1 medium sweet potato
Instructions:
Pre-heat your oven to 450 degrees.
If frozen, make sure your halibut is completely thawed and close to room temperature.
Peel the skin off of your sweet potato. Then using your peeler create strips of sweet potato. (We like lots of sweet potato so we do nearly the whole potato, but depending on how much you want on your fish you can use less).
Cut 4 pieces of aluminum foil large enough to wrap each Halibut fillet and lightly cover the foil in a non-stick spray or olive oil.
Wash the halibut with water, dry, then lay one piece on each piece of foil.
Cover each piece generously with salt and pepper.
Put a dollop of pesto on each fish so that the fish is not overwhelmed, but well-covered.
Layer your sweet potato strips on top of the pesto to your liking. We do about 10 strips per fish.
Add another layer of salt and pepper on top of the sweet potato.
Gather the tin foil around your fish so that when you pour the olive oil and wine it does not run out of the foil.
Drizzle olive oil and white wine over each fish – enough to create a small pool around your fish.
Wrap the fish in the foil and place in the oven for 12 minutes.
When the fish comes out of the oven your house will smell amazing! Simply unwrap the fish and transfer to a plate to eat, then drizzle with the remaining liquid.
Enjoy!