Corinna just returned from a two week check-out tour of Tanzania where she visited 9 different photographic safari lodges! Continue reading for a short recap of her trip.
The wildlife in Tanzania was breathtaking! Some of my highlights were seeing: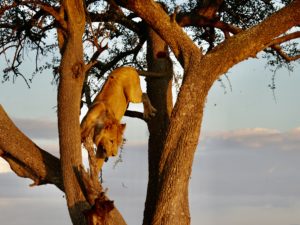 Lions climbing and resting in the trees. It was amazing to watch these magnificent lions that have adapted to climbing trees to avoid the flies.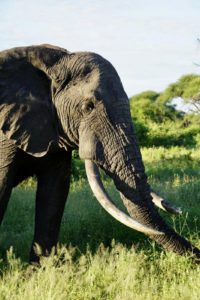 Bull elephants with MASSIVE tusks. They really looked prehistoric. Some nearly dragged the ground as they lumbered along.
A leopard taking a nap after he had dragged a baby zebra up a tree. That would make me want to take a nap too.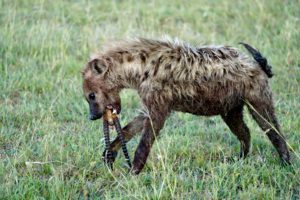 Watching a brown hyena play with the skull and horns of an impala it had killed earlier. He pranced around with them like they were his trophy.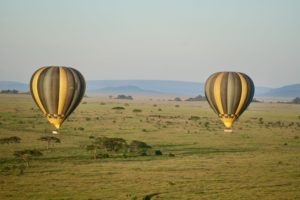 From our hot air balloon, we witnessed the beginning of the migration with thousands of wildebeest and zebra bleating loudly as our driver swept us close the ground, even touching acacia trees at times.
I had the amazing privilege of experiences several people groups including the Maasai people during this adventure.
I met a lovely group of deaf and/or mute ladies who have been taught to work on looms to create beautiful items to provide for themselves. They were incredibly kind and spent time teaching us their craft through hand motions and demonstrations.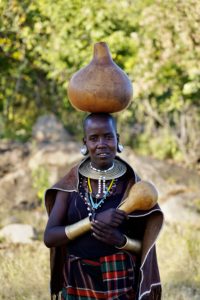 Some very kind ladies tried to teach me to carry a water jug on my head like the picture above… but that did not go well for me!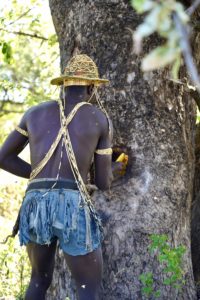 I was invited to join one nomadic community who were removing honey combs from a nest of Killer Bees. The young man charged with completing the feat was stung many times, but did succeed. I tasted the honey and it was delicious.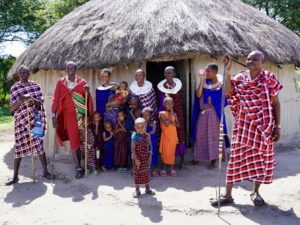 Below is a photograph of a tribe chief with his three wives. Each wearing a white necklace. I learned that when they are happy with their husband they wear white and when they are unhappy with him they wear black for the whole tribe to see… I really thought about buying these to bring home to wear around the house with Kevin!
It was incredibly humbling to see how these tribes live and how happy they are. It reminds me that I do not need all of the extra that I often think I could not live without.
I visited 9 different lodges throughout the trip. They ranged from rustic luxury to 5-star luxury. They did not disappoint!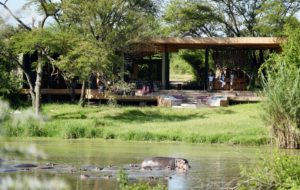 We had a river of hippos in front of one of the lodges (and my suite) so we watched them while we ate our meals and relaxed around the lodge. They played, mated and fought all day every day – it was so exciting!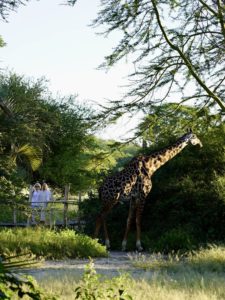 At another lodge there were giraffes that liked to walk around the lodge visiting the tents. Each morning we would all share our experiences with the baboons and giraffes from the night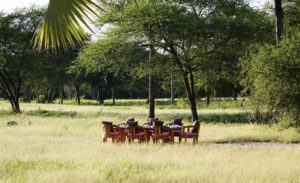 .
At each lodge, our hosts surprised us with outdoor meals ranging from next to the waterhole in front of the lodge and breakfast under a Baobab tree to true bush lunches.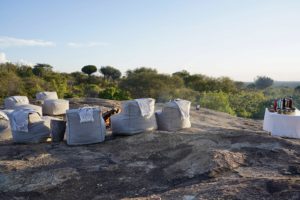 I always love Sundowners (appetizers and drinks) in Africa and these were some of the most lovely I have ever experienced.
Tanzania is an incredible country in every way. The wildlife, people, and lodges are beautiful and create a unique experience. I am excited to have these new lodges to send our clients to in order to experience Africa!