Mozambique Luxury Hunting Safari
This Mozambique luxury hunting safari is located within the unspoiled, pristine Miombo woodlands of the massive and legendary Niassa Reserve in Northern Mozambique.  Imagine hunting 1,700,000 acres of wild Africa!  Known as the finest area for daytime leopard hunts and exceptional Buffalo hunting.
Because the western boundary for 36 miles is the meandering Lugenda River, the main lifeblood of the region all animals make their way here in the drier months of the year.  What this means to you is the that game is concentrated on this beautiful Mozambique hunting safari property from July to the end of the year where the water source is most prime.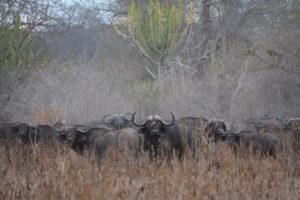 The main camp is superbly located high up on this river's banks. With the most amazing views towards the west and offers luxurious under thatch air-conditioned lodges with en-suite bathrooms, an open-air bar, lounge and dining area, graced with a superb infinity pool for your leisure. The camp has broadband Internet and satellite TV (upon request).
There are several international and domestic commercial flights to Pemba from where you will be escorted through to your private 1 hour charter flight to camp. The sheer beauty and magnitude of the granite mountains, towering over the Miombo forests, open grasslands, bamboo thickets, floodplains and riverine forests and the mind-boggling diversity of this biosphere is unequaled on the African Continent.
This visual symphony, together with the cultural richness of the area and the humble and friendly nature of the local people, will ensure a trip of a lifetime.
Since your Mozambique hunting safari is located near the gorgeous islands just off the coast in the Indian Ocean, adding on a few days of touring is a natural finale for your adventure in Mozambique.
The video below is very "homemade" but it will give you a peak at what this experience is like.
Accommodations & Meals
The infrastructure in the extremely remote safari lodge will astound you!  Air conditioning, internet, beautiful swimming pool, astounding views, delicious meals, ice, thatched glass lodges with ensuite bathrooms.
Hunting
The hunting season in Mozambique is from 15th May to 30th November.
The Niassa Reserve falls within the subtropical region of the country and receives on average 1000mm (40") rain per year. The rainy season coincides with the heat and humidity from December through April. Winter, which is the dry season, stretches from May to mid-September and this is then also the coolest time to visit the country. Average day temperature ranges between 20°C and 30°C (68°F and 86°F). Animals become more visible from May through to November as the bush dries out and they tend to congregate close to water sources. August, September and October are the best months to hunt for predators while November is very good for buffalo as it is the driest time of the year.
We are very specific with what we hunt, no buffalo or sable hunting is done in the herds, only lone bulls or groups of bulls are perused. Sable bulls must show secondary growth of 1" at the base of the horn, which ensures that they are over 7 years of age. With regards to the hunting of leopard and lion, we adhere to a strict protocol which ensures that we hunt these animals sustainably.
If you are after a daytime leopard, the best time to hunt them is before the end of August. Hunting is allowed at night, with artificial light, but only for lion, leopard, crocodile and bushpig. Hunting of female, young and/or immature animals is prohibited. hunting is proper spot and stalk for mature animals.
Species available:
Dangerous Game
Buffalo
Crocodile
Elephant
Leopard
Lion
Plains Game
Baboon – Yellow
Bushbuck
Bushpig
Duiker – Common
Duiker – Red
Eland – Livingstone
Grysbuck
Hartebeest – Lichtenstein
Guineafowl
Hyena – Spotted
Impala – Johnston's
Kudu – Southern Greater
Sable – Roosevelt
Suni
Warthog
Waterbuck
Wildebeest – Niassa
Zebra – Böhms
Length of Stay / Itinerary
The minimum stay is 8 nights/7 days up to 22 days.
Day 1:  You will arrive in Pemba, Mozambique and immediately transfer to your private charter flight.  Your 1 hour flight delivers you to the landing strip that is about 200 yards from the scenic lodge.
Day 2 – ?:  Enjoy amazing hunting!
Departure day:  Again your private charter flight will deliver you to Pemba and then you will continue onward towards home unless you want to continue touring some of the amazing islands off the coast.
Travel Details & Location
The closest port of entry to the Niassa Reserve is Pemba International Airport (POL). We recommend that hunters fly via OR Tambo International Airport in Johannesburg, to Pemba directly on SA Airlink. There is one flight per day (none on Sundays and Tuesdays). A lodge representative will meet and assist each client on arrival at Pemba airport. Clients will travel in a light aircraft from here to camp.
Entry and Visa Requirements
Travelers to Mozambique must have a valid passport with validity of not less than six months and a Visa (to be applied for 60 days before the safari from the Mozambique Embassy in the hunter's respective country).
No worries!  Family Expeditions will assist you with your flight coordination and all travel needs.
Internet & Communications
Wifi is available but please remember this is a remote lodge!  A satellite phone as a back up plan is suggested if you must have connection to home.
Changing Generations
Africa is our home and our heritage. We acknowledge the fact that it is our duty as safari operators to uplift, support and preserve not only the area in which we operate, but also to act as custodians and ambassadors on behalf of the hunting community worldwide. We believe that through well-regulated and sustainable hunting practices we can contribute to Africa's socio-economic development and growth, and in turn create a more favourable environment for investors, traders and travellers to visit and generate revenue. Therefore, we join hands with other operators, hunting associations and pro-hunting organisations to cultivate a constructive worldwide industry that ultimately influences Africa, its people and its wildlife positively
Furthermore, we conserve our wildlife through:
working cooperatively on all levels with National Parks boards, conservation bodies, wildlife researchers and environmental departments on conservation issues;
training, managing and supplying anti-poaching units with the latest equipment to protect our endangered and other indigenous species;
providing aircrafts and/or helicopters to assist with anti-poaching aerial surveys;
developing and executing fire management programs;
game counting and setting of sustainable hunting quotas in cooperation with governing bodies; and
implementing additional hunting protocols above and beyond the legal scope in order to ensure the long term sustainability and longevity of the areas concerned
Rates
2022Rates:  Please call for updated pricing and information
Hunts begin at $7,250 and up.
Trip Insurance & Cancellation Info
Trip insurance is highly recommended to protect your investment on this trip. We will assist you with trip insurance upon booking. See links at the bottom of this page for the two providers we suggest for our clients.
Family Expeditions, LLC confirmation and refund policy:
If your trip is more than 90 days out from date of departure, a 50% non-refundable deposit confirms your reservation and must be received within 10 days of booking to confirm your dates. All trips must be paid in full at least 90 days prior to the departure date. If your trip date is within 90 days, FULL payment for the trip is required. All payments to Family Expeditions are non-refundable. Should you need to reschedule or cancel your trip, we will do everything in our power to assist you in finding a suitable substitute or transferring your dates per the lodge/providers/government requirements. Trip insurance protects your investment!
FAQ
Health Issues
Mozambique is a malaria destination, so it is advisable to take malaria prophylactics before arriving in the country. Adequate clothing as well as mosquito repellent are important to minimize mosquito bites.  Tsetse flies are also found in the area, but pose little to no risk of acquiring African trypanosomiasis (sleeping sickness). Avon Skin So Soft can work wonders!  Each hunter is advised to bring a small personal medical kit with necessary preferred medication for headaches, colds, burns, allergies etc.