Nebraska Duck Hunt
Situated in the heart of the Central Flyway, this outstanding Nebraska waterfowl hunt lodge is quickly becoming recognized as one of the country's most predictable waterfowl destinations.  This is a Nebraska duck hunt that you will be talking about for years to come!  Many are surprised that this area is such a successful waterfowl hunt.  Fast waters fed by warm springs make this one of the most successful hunts in the United States.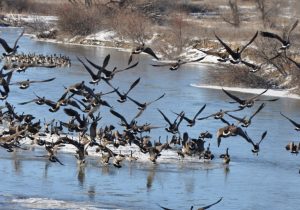 Occupying three miles of Platte river bottom and over 5,000 acres of owned land, they invite you to enjoy some of the best waterfowl shooting you'll ever experience.  With both river frontage and flooded fields they are assured of having open water throughout the season, regardless of the weather.  In addition large numbers of Canada geese use this as area as staging grounds before heading further south.  Enjoy your passion from the comfort of the heated blinds. In the afternoons you can enjoy some of the best pheasant and chukar hunting found in the Midwest.
In addition to waterfowl hunting and upland hunting, this is also recognized for trophy whitetail.
As a guest, you will enjoy an incredible all-inclusive hunting experience, you'll also find the lodge provides the utmost in comfort.  The main lodge houses five bedrooms and a satellite lodge only short walk away offers privacy for family groups that wish to enjoy their own private lodging.  Your family or group of couples will find the perfect combination of excellent hunting along with warm comfortable lodging.
The habitat surrounding the river bottom is the ideal situation for waterfowl traveling down the Central flyway.  With the combination of agricultural land bordering the river system and its tributaries, the fluctuations of water levels all most always assure the ducks and geese will have access to current food sources.  In addition the lodge is located adjacent to large cattle feeding operations which are a natural attraction for passing waterfowl which is why late season hunting is still strong.
A perfect location for a family gathering as the lodge will host you exclusively with only 8 hunting guests.