Kansas Luxury Pheasant Lodge
With future generations in mind, the vision of this amazing Kansas luxury pheasant lodge evolved as a place where the avid hunter or wildlife enthusiast could escape for an unprecedented, all inclusive top drawer experience. The ranch features over 20,000 acres of intensively managed prime wildlife habitat in the heart of Kansas for pheasant and waterfowl.  Combine luxury, exceptional staff, with the finest Kansas luxury pheasant lodge and this is an experience you will long for year after year.
You will experience the premier upland preserve pheasant hunting experience in Wichita and Kansas. These hunts represent a true commitment to excellence with an authentic passion for wing shooting. Once you finish walking the fields, end the afternoon by shooting some clays, sipping on a whisky, and reminiscing about your day in the field. With our preserve license you will have the opportunity for 16 pheasant per day per hunter on a 3 night/2 day hunt.
Excellent service and limited hunters make this quite possibly the finest in the industry.  A perfect destination for the corporate WOW trip or the group of hunters that want to be spoiled by the best waterfowl hunting in the United States or free range whitetail hunting where the norm is Boone and Crockett caliber deer.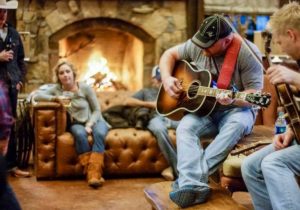 The ranch campus spans across 6 stunning buildings. Including the 10,000 square foot, Mallard Mansion. And the recently finished 15,000 square foot centerpiece for the property, The Refuge. It is no doubt that your stay at the will an experience that you will remember forever.
Even more amazing than the structures is the land management program that is utilized on more than 20,000 acres across. The land is managed to benefit the wildlife through the entire year. It is a true testament of Eric giving back to the land the makes this the place it is.
"A look into the most distinguished and stunning hunting experience in the Midwest. Good things, Good people. It's not the walls that make this experience unique, it's every person that walks through the door."