South Dakota Luxury Pheasant Hunt Pierre
This South Dakota luxury pheasant hunt near Pierre is prime!  Located a convenient 20 minutes from Pierre Regional Airport, this is the place for pheasant hunting, and this lodge offers luxury and all the amenities you would expect from a first class pheasant lodge.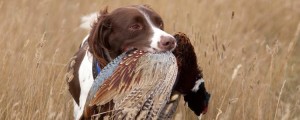 They are accustomed to the needs of seasoned wing shooters and corporate groups.  Their attention to detail will amaze.
With thousands of acres of cornfields, meadows, river bluffs and rolling hills to choose from, your hunting experience here will be fun and challenging. As the prairie grasses crunch beneath your boots and the crisp, morning air meets your face, it is exhilarating to know you're experiencing South Dakota pheasant hunting at its finest. Among these meadows, cornfields, river bluffs, creek bottoms and rolling hillsides, you'll find North America's largest population of Chinese Ring-necked Pheasant.
Sought after for its phenomenal upland bird hunting, extended season, and diverse habitat. The family-owned lodge provides a setting for field sports that makes pheasant hunting in South Dakota especially rewarding. When considering South Dakota hunting lodges this lodge ranks among the highest for numerous reasons, including its 33 guest rooms and suites. Comfortably appointed, each is designed for single occupancy and has a private bath.
All pheasant hunts include a 20 bird privilege per hunter per day!  All pheasant hunts include a 20 bird privilege per hunter per day!  A perfect family wingshooting trip where the pricing is known as there are NO EXTRA BIRD FEES HERE!  Your budget will be set with no extra bird fee surprises at this luxury pheasant hunt lodge!