Namibia Family Hunting Safari
Your professional hunters at this family hunting safari company have a special passion for teaching beginning hunters how to shoot and how to hunt as well as sharing their contagious passion for hunting Africa.  They are patient and well equipped to give the novice hunter a perfect introduction to hunting yet they are experienced dangerous game certified professional hunters for seasoned African hunters.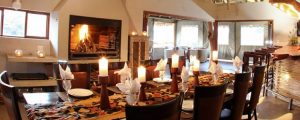 You will be hunting some of the finest hunting grounds in Namibia combined with relaxed comfortable accommodations, enthusiastic and energetic professional hunters as well as a large fleet of late model vehicles.
Excellent youth model rifles as well as adult rifles are available for those that do not wish to travel with guns.  Appropriate lodges will be selected according to the experience and skill of the hunter(s) and any non-shooters that may be traveling.  Other activities such as walking with Cheetahs, visiting a local Bushman camp, Namib desert creatures tours, Dolphin cruises, deep sea fishing and more are easily added onto any safari.
No two safaris with this safari company are a like and each is personalized according to the your specific needs and requirements. No request is impossible for them and we are proud of their long list of return clientele that bares testimony to their success.
By planning your trip through Family Expeditions, we understand that it is not just about getting the trophy you seek but rather the overall experience – We are here to assist you with trip selection, walk you through your safari preparation, communicate with you before during and after your safari.  The highlight of our relationship built with you is when we hear all about your safari! We truly want to ensure that you receive the best possible service
Travel to the property is easy as you will fly to Windhoek, Namibia for most of your  hunts.  Your professional hunter will collect you from the airport and transfer to the property.